TAXI HISTORY
TAXI was originally formed in the fall of 1976. The band was then known as "Thorin Oak." The bands first official performance was on March 1st, 1977, at Eddie's Lounge in Teaneck. Eddie's eventually became Mexicali Blues which was the setting for two TAXI reunions (talk about karma). TAXI made a reputation by playing the music of Billy Joel, Bruce (you know who), Jethro Tull, The Who and various other classic rock artists along with a collection of their own original material. In the spring of 1980 the band recorded their first (and only) album for H & L Records. The album was released only in Germany because it was way to hip for the U.S. at the time, the band re-released the album in 2000 for the twenith anniversary. TAXI continued to play the club circuit and record original material until 1982. After a three year hiatus, some wives and kids and full time jobs, TAXI began doing their annual reunion performance in 1985. The reunion has been a yearly event ever since and has developed into the gothic musical event millions of people have come to know and love the world over.



The TAXI Family
TAXI would like to acknowledge some of the people who have greatly contributed to their mission of saving the world through music: James Burns- the "fifth" Beatle and forever a brother to the band; Paul Danese- sound man extraordinare; Peter Jaye- former manager and constant source of consternation and curiosity; Tom Patrick- the essence of "slick"; John (Mogul) Mele- his spirit lives on in us forever; Boulevard Studios, for their FRIENDShip and support; and all our wives, parents, siblings and family members who have always understood us and stood by us.
TAXI would especially like to thank the excellent fans that come out every year, and what keeps this going is YOU. As long as you keep coming, we will keep playing. Thanks for your support.



Band Members
The "original" and still TAXI members are, John "Shoes" Ciniello on bass guitar and vocals, Al Egizi on guitar and vocals, Paul "Swami" Simeone on the keyboards and vocals, Jimmy Burns on guitar and vocals, Peter Danese on drums no vocals (the band will not give him a mic) and later joined by Jerry DeLisio on sax, he only sings through his horn.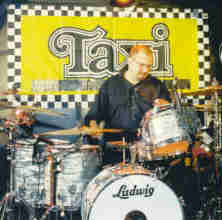 Join us next time.